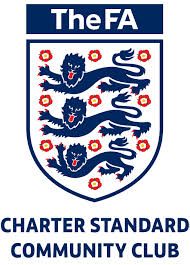 March 2016: Once again, Warwick Juniors have been awarded Charter Standard Community Club status by the Football Association.
This is a fantastic achievement as we are one of only 460 clubs in the country to have attained this level.
The FA Community Club scheme builds upon the foundations of the Charter Standard scheme in placing clubs at the heart of their community.
As a community club, we have attained the pinnacle of the club development pathway, by developing a high quality, multi-team set up with excellent social, training and playing opportunities for all. As such, the number of Community Clubs is one of the truest measures of success for The FA Football Development strategy.
To obtain this recognition, the club had to meet FA criteria, ensuring that we provide opportunities for players irrespective of age, gender, religion and ability. The club also has to provide qualified coaches, first aiders and child protection officers.
Becoming an FA Community Club should be the ultimate goal for hundreds of clubs at grass roots level and Warwick Juniors FC is proud to be one of them.
​